Live help / Live support software a must?
While im going to be slightly biased here, I think its still wise to get the word out about live support software or as some people call it, Live help software.
Live support software has become increasingly popular for website owners. E-commerce websites want to be able to interact with and support their customers actively as they browse and shop on-line.
IMsupporting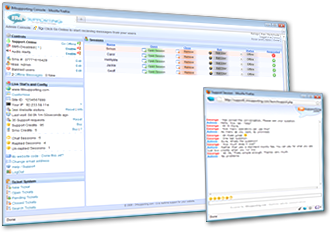 Live support software for websites
The equivalent of a shop assistant in the on-line world is the instant messaging support button. If a customer is browsing a website and has a question about a product, can't find a particular item on the site or simply wants some advice, they can click for live support.
The live support icon or button provides an instant messaging solution for customers to ask their question and receive real-time assistance from members of staff. It may well be that a quick question is all that is needed to close the sale.
Internet users are notoriously impatient, and there seems to be a reluctance to pick up the phone and talk to the merchant directly, Even if its a free phone call.
The inclusion of the instant messaging live support feature provides an alternative cost effective way to reach out to your users.
Instant messaging support
The IMSupporting.com live support solution has all the features you would expect. A clear instant chat screen allows easy communication, and can support unlimited operators for dealing with multiple enquiries on busy sites.
Canned responses can be used to answer common questions automatically, and there is a separate administrator control panel to coordinate and run the live support system. IMSupporting.com also has some neat features including multilingual support, off-line ticketing , SMS notifications, Free ticket system and real time visitor statistics.
If you are interested in instant communication with your website visitors, and higher conversion rates, then the live support system from IMSupporting.com is the answer. With free registration, free trial credits and inclusion of a simple button you can be up and running immediately.
Start increasing your sales and consider using live support software on your own website.
Links
IMsupporting
Have you had dealings with live support software providers?
Let us know about your experiences by leaving a comment.