Q.) How do i add live chat support to my website?
Hi Guys,
Working in the live chat sector myself, I will now guide you through quickly installing a live chat app into your own website / blog / online store.
If you have basic HTML knowledge and 10 minutes of free time, You will be chatting before you know it.
OK,
Im going to use IMsupportings live chat support software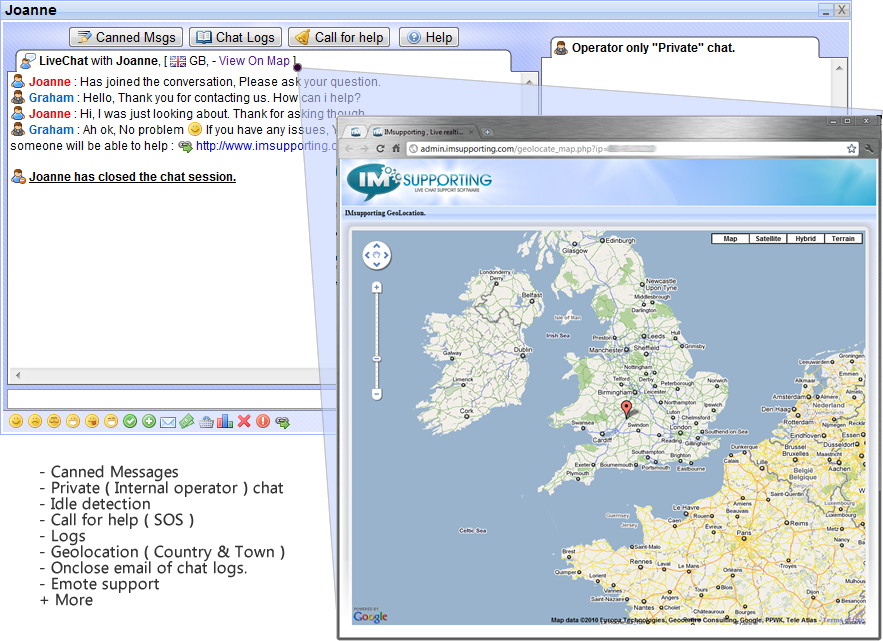 This company provide a free trial with ZERO downloads and no cash up front, so you can see the effects live chat has on your sales without parting with a penny.
The process is as follows:
1) Have a website you need live chat for.
2) Sign up to IMsupporting
3) Find a button ( or upload a button ) that suits your website . This is what visitors click to talk to you.
4) Install the small HTML snippet of code.
5) Login to the admin console and click "Go Online"
– Wait for people to chat to you.
IMsupporting offer plenty of live chat features and after the free trial you will find they are much cheaper and scalable than other providers.
Ok,
So here we go.
– Lets sign up to IMsupporting.
Follow this link [here] and enter your site info.
Once registered, wait for your confirmation email and follow the link to activate your account.
– Now you have a registered account you simply need to login.
Visit http://admin.imsupporting.com and login.
– Now get your website code:
Click [ Get website code ] on the left hand side of the control panel.
Choose an icon you like and that fits with your website and click [ get code ] to the right of the icon you choose.
Copy and Paste the code on the screen into your html in your website ( Where you want the button to appear )
Save and upload your edited html file.
Now the button is on your website and saying your Offline ( leave a message )
– Wait for chat requests
To Go online and receive live chat requests, Click "Go Online" in the upper left corner of the chat admin panel.
Now just wait for a request, You will be notified in the main area, Click "Open" when one comes through and start chatting.
Done.
Now,
There are plenty of other features the software offers, Like a helpdesk system and geo-location.
Simply take a look around.
You can customise the chat screens and more.
If you find it useful, Simply top-up your chat credits when needed.